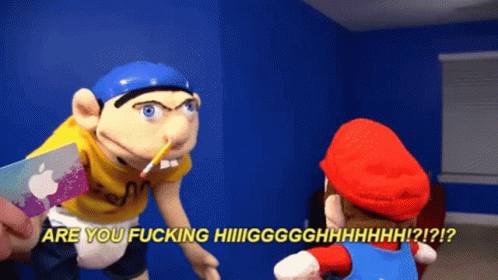 I say to the VRChat devs. Playing Half-Life: Alyx (doing my second playthough). Kovo starts messaging me in Telegram. Lift up my headset and look at my phone.


If you're out of the loop, the devs want to give you;
-100 favorite avatar slots.
-Customizable Nameplate Icon.
-A VRChat Plus Supporter Badge.
(and anything else they could pull out of their ass instead of FIX THEIR FUCKING GAME)…
All of this for $10 a month.
Now, before I continue, I don't speak as someone who 'hates' the devs for coming up with this idea. I actually agree that they do need money to fund future development. But.. it could possibly backfire. I speak for someone that cares for VRChat, else I wouldn't really be posting this.
The problem is the nameplate icon and supporter badge, could cause favoritism in the form of supporting a bugged game. Let's face it, VRChat has long standing issues that have lasted since I started playing back in 2018. If they could guarantee me they'll use this $10/mo to help fix their servers, then maybe it's worth it. It's good to invest in something that you will get more for your money in return (instead of a pat on the back).
Question is, what else could they offer for this $10/mo that would help justify its cost? Personal servers? Instant FBT calibration? Personal avatar sorting? A free fully-customizable homeworld? More friend groups? More emojis?
Those things might be worth it. Though I dearly doubt 'free customizable avatar 3.0 that can support full body' is an option. If they did, I would definitely consider paying (even though I got BTD 4.0 for free and like it).
–
But the problem here, as I said is going to be favoritism among supporters and non-supporters. Non-supporters will see supporters 'simping for a broken game', and supporters could turn aggressive against new players who don't know anything about this and start to bully them into 'joining their ranks'.
Crashers will then ramp up and attempt to quell the supporters, and might even turn into bullies themselves.
—
But this is just one of the issues. The second (more concerning) issue is the devs could crack down on emmVRC and other useful mods as being ways to 'bypass having to
pay'– especially the higher avatar slot limit (which emmVRC can go infinite as avatar data is stored locally, for free).
They know what emmVRC can do, and they will do everything in their power to prevent it from ever working again. Hence, the death of using mods in VRChat.
Phasmophobia managed to ban the ModLoader client… who's to say VRChat won't do the same, hmm?
I dunno what else to say that I haven't already said. Just, this isn't a case of 'if you don't like it, don't get it'. It could endanger the future of this game. Then again I could be completely wrong and this service might actually help the game.
But I'm pretty much done talking about it. The devs are going to do whatever they feel is right, despite the majority of the community being against it. It happened with
Blizzard, it'll happen here.
Except if you don't like this, then vote with your wallet by not purchasing the service.
If you like mods like emmVRC that try to give features the devs refuse to (such as infinite favorite avatars, a social refresh button, a thing that lets you know when people and leave the instance, play with your friend's dynamic bones, and so much more…) then give that $10 you would've given to VRChat, to them.
They deserve it, more than VRChat does in my honest opinion. They make the game better and more fun.